This page is part of © FOTW Flags Of The World website
Mayotte (France)
Collectivité départementale de Mayotte - Mahoré - M'Ayota
Last modified: 2009-08-15 by ivan sache
Keywords: mayotte | mahore | mayota | africa | france | comoros | crescent (white) | flowers: 2 (yellow) | sea horses: 2 | stars: 4 (white) | front democratique des iles comores |
Links: FOTW homepage | search | disclaimer and copyright | write us | mirrors

---

French national flag - Image by Željko Heimer, 22 September 2001
---
See also:
---
Presentation of Mayotte
The French collectivité départementale d'outre-mer (Law #2001-616 of 11 July 2001) of Mayotte (186,452 inhabitants in 2007; 376 sq. km), made of two islands (Grande Terre, 362.3 sq. km, 80,758 inhabitants, and Petite Terre, 11 sq. km, 13,627 inhabitants), is located in the Comoros archipelago, north-east of Madagascar.
Mayotte should become a DOM (Département d'outre-mer) in 2011. On 29 March 2009, the inhabitants of Mayotte have massively approved by referendum the proposal of new status. The French flag will remain the sole official flag like in all other French departments (either European or overseas). The new institutions, to be set up in 2011, may include a General Council and a Regional Council, with potential flags.
The Sultanate of Mayotte was sold by Sultan Adriansouli on 25 April 1841 to Commandant Passot, who was looking for a port for the French Navy. In spite of the opposition of United Kingdom and the other local sultans, the purchase was ratified by King Louis-Philippe on 10 February 1843; Mayotte was formally annexed by France on 13 June 1843, a fact recognized by Anjouan in September 1843.
On 29 August 1843, Mayotte was incorporated into the Settlements of Nossi-Bé and Dependencies, administrated from Bourbon Island (today Reunion). Made a distinct settlement on 1 January 1846, Mayotte was incorporated from 1896 to 1968 into the Comoros.
By referendum, Mayotte decided twice (December 1974 and February 1976) to remain French and not to join the Republic of Comoros, which has maintained territorial claims on Mayotte since then (represented by the fourth star on the national flag).
Ivan Sache, Pascal Vagnat & Željko Heimer, 16 May 2009
---
Official flag of Mayotte
The only official flag in Mayotte is the French Tricolore.

Ivan Sache, 3 July 2000
---
Local flag of Mayotte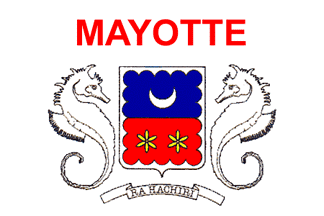 Local flag of Mayotte - Image by Pascal Vagnat, 16 April 2004
The local flag of Mayotte, hoisted in front of the General Council, along with the French national flags and other non-identified flags, as can be seen on a photo published in the weekly L'Express (12-18 April 2004, p. 50), is white with the coat of arms of Mayotte surmonted by "MAYOTTE" in red letters.
Pascal Vagnat, 16 April 2004
---
Coat of arms of Mayotte
In Le Monde des Philatélistes, No. 513, December 1996, J.F. Hory describes the arms of Mayotte as follows:
Coupé d'azur au croissant d'argent et de gueules à deux fleurs d'ylang-ylang d'or, à la bordure engrelée d'argent (Per fess azure a crescent argent gules two flowers of ylang-ylang or a border engrailed argent).
The shield is supported by two sea horses argent; below the shield, a scroll argent bears the motto of Mayotte, "RA HACHIRI" in letters sable.
The arms of Mayotte, created by Michel Chabin, former Director of the Archives of Reunion, and designed by the local artist Pascal Santerre, were adopted by the General Council of Mayotte on 23 July 1982. Therefore, while the flag is unofficial, the coat of arms is, actually, official.
The colours of the arms are those of the French flag.
The crescent recalls that 97% of the islanders are (Sunni) Moslims. The flower of ylang-ylang is produced by the cananga tree (Cananga odorata (Lam.) Hook & Thomson), native from South-East Asia and grown on 9% of the arable land of Mayotte. The essential oil extracted from the flower represents 25% of the exports of Mayotte (20 t per year) and even 50% when reexports are excluded; Mayotte is nicknamed "Perfume Island".
The engrailed border represents the coral barrier that surrounds the lagoon of Mayotte, the largest enclosed lagoon in the world.
The sea horses allude to the shape of the biggest island (Grande Terre).
The motto Ra Hachiri means "We are vigilant".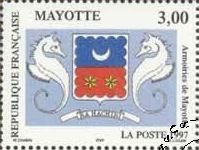 Postage stamp with the arms of Mayotte - Scan by Ivan Sache, 10 February 2005
The coat of arms is shown on a postage stamp released by the French post in 1997.
Ivan Sache, 23 May 2009
---
Alleged banner of arms of Mayotte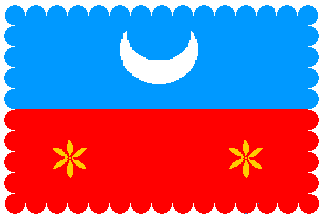 Flag proposal for Mayotte - Image by Pascal Vagnat, 2 April 2003
I designed a flag proposal for Mayotte long time ago, that is a banner of the arms of Mayotte, and it seems that this design of a non-existent flag was released in the vexillological world, copied and further spread. However, I doubt very much that this flag ever existed in the real world.
Pascal Vagnat, 2 April 2003
---
Comoro Islands Democratic Front (Front Démocratique des Îles Comores, FD)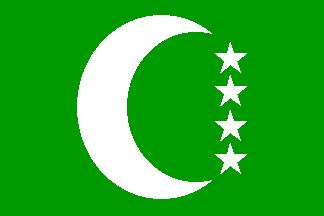 Flag of FD - Image by Ivan Sache, 12 September 1999
FD, a left-wing political party based in Moroni, Republic of Comoros have a branch in Mayotte and it is perfectly natural that they would be in favor of national unity. I have never heard of them having a flag, though, and I know the leader of the FD fairly well (he was my neighbour for two years). And yes, there are people on Mayotte who are pro-Comoros (admittedly not many...)
Iain Walker, 14 February 2000
The flag of FD is shown on the Flags of Aspirant Peoples chart [eba94], #33, with the following caption:
MAYOTTE (Comoro Islands Democratic Front)
East Africa;
based on written description.
The flag is green with a white crescent and four white stars placed vertically, therefore nearly identical to the 1996-2001 national flag of the Comoros (without inscriptions).
Ivan Sache, 12 September 1999