This page is part of © FOTW Flags Of The World website
Republic of Dubrovnik (Ragusa)
Dubrovacka Republika, Repubblica di Ragusa,
Last modified: 2010-01-22 by dov gutterman
Keywords: dubrovnik | ragusa | croatia | hungary | st.blasius | libertas |
Links: FOTW homepage | search | disclaimer and copyright | write us | mirrors

---
---
See also:
Other Sites:
Collection of Croatian historical flags at the FAME
Photo of St Blasius flag at
---
Translation from: Josip Luetic - O drzavnoj zastavi Dubrovacke Republike, Zadar, 1967, Drustvo za proucavanje i unapredjenje pomorstva Jugoslavije u Zadru, Izdavacki zavod JAZU, Zagreb.
The Flag of the Republic of Dubrovnik

Summary

The flag used to designate by its form, various colours and different drawings to which organized authority - State - it belonged.

Our [Croatian; Željko Heimer] maritime communes in the past had their own flags. Our most prominent flag over the span of several centuries was that of the Dubrovnik commune or Dubrovnik Republic, wich, in 1272, was made official and recorded in the Statute: VIXILLUM S. BLASIJ. (2)

In the ancient portulans of the most prominent world cartographers since 14th century also the flag of Dubrovnik Republic was recorded.

As a 'seal' of statemanship in rectangular form, the Dubrovnik flag was made of cloth - domestic white woollen fabric called raša - or of imported linen, more rarely the fabric used was domestic silk. It was positioned at the stern flagstaff, or on the main mast, or on the jigger boom, or on the gaff of all Dubrovnik sailing-vessels.

The secondary Dubrovnik flag (1) was white in colour, and in the middle stood the inscription Libertas. As in other maritime States, sometimes a special flag - the coat-of-arms of the Dubrovnik Republic drawn in the white field - used to be employed as a designation of the personality carried aboard.

In view of the significance of flying the State flag, the Dubrovnik government discussed the question in the fremework of it's councils and State organs, and in this connection it passed certain decisions and conclusions.

Besides the printed works and tables of the flags, the yet published complements and written archival documents, there exists a rich artistic material that tells us in the form of reliefs about the Dubrovnik State flag which was flown on the ships of the Republic.

In the Maritime Muesum for Historical investigations of the maritime affairs of Dalmatia of the Yugoslav Academy of Sciences and Arts in Dubrovnik are kept original flags that were flown on the sailing-vessels of the Dubrovnik Republic in the 18th and at the beginning of the 19th centuries.

In discussing this question the author of this paper draws the inference that the true and only official State flag of the Republic of Dubrovnik was that in white colour with the effigy of St. Vlaho, which was flown for centuries on the ships of this our only express maritime State in the past until the 27th December 1807, when the French occupation General A. Lauriston ordered the Dubrovnik Senate to substitute this flag with the foreign flag of Napoleonic Italy.

Artistic annexes (drawings) complement the author's expositions.
There is at least one interesting source quoted in the text: G. Pash, Pavillions des villes de la cote Dalmate au Moyen age. Neptunia, Paris, No. 77/1 1965.

Željko Heimer, 16 August 1996
I have been visiting my stamp dealer and there are several flag stamps that should be reported here.
As a part of EUROPE issue a series of two stamps was issued, on 23 January 1998. They present two important fastivals - which one of those, in the vallue of 4.00 kn is dedicated to Dubrovnik Summer Games (theatre festival), picturing the main square in old Dubrovnik, with the Orlando's pole, the flag pole which is in the middle of it, on which the flag of Dubrovnik always was flown. On the stamp, there is a flag too, white with red shield with golden letters in three rows LI/BER/TAS. Unfortunately, the stamp is made in manner of children's drawing, and is hardly that anyone would notice it. In any case, even if it is possible that it was used (and there are some evidence on it) it is most probably that the drawing was made without much background on real flag.
Željko Heimer, 7 June 1998
I came by a refference on some article on Ragusa flags: James Marill "St. Blaise and Liberty: the Flags of Ragusa", Flag Bulletin no. XXVI: 1-3 (Report of the Tenth ICV).
Željko Heimer, 29 August 1999
The cover of [sie63] shows what the book describes as approximately a quarter of a flagchart, one of many to roll of the, mostly Dutch, presses for the use of seafarers: "Tableau des Pavillons que la Plupart des Nations arborent a` la Mer. Faitau de'po^t des cartes et plans de la marine pour le service des vaisseaux du Roy par ordre de M. de Machault, Garde de se'aux de France. Par le Sr. Bellin Inge'nieur de la marine. 1756." [bel56]
On the 3rd row from the bottom there is "Pavillon de Raguse" - A white flag with grey shield outlined in black. On the shield the text "LI" "BER" "TAS". ["Libertas": Freedom".]
Peter Hans van den Muijzenberg, 4 January 2001
At J.W Norie - J.S. Hobbs Flaggen aller seefahrenden Nationen, 1971[ nor71] (original print 1848):
181 Ragusa: White, a Franciscan (?) monk black (detailed in white).
Peter Hans van den Muijzenberg, 12 November 2001
The figure should be St. Blasius. He should be pictured as a bishop, though similar black-habited figure is shown in several sources.
Željko Heimer, 13 November 2001
Reading the [isa01], the Republic of Ragusa (Dubrovnik) had flag prescribed already in the statutes of 1272.
Željko Heimer, 17 July 2002
---
At Dubrovnik Maritime Museum there is a flag "...which belonged to a sailing vessel from Dubrovnik that was commanded by Captain I. Birmisa. The flag is made of canvas that is turned dark. It has been preserved in its entire width with the figure of St. Blasius, while lengthwise a part is missing. St. Blasius has a grey beard and is wearing a miter and a robe that is red on the outside and blue on the inside. He is making a sign of blessing with his right hand, while in his left hand he is holding a triangular model of Dubrovnik with outlines of town walls (Minceta Tower). In the upper corners of the flag are two loops."
Jan Mertens, 26 October 2004
This is an important flag for us, I belive. It is the ensign of the Dubrovnik Republic. This particular example was made around 1800. The text claims that at the fly there is a part missing (there might have been some tails or something - the photo does not look as if anything of consequence is missing!). I believe that this particular flag served also as the base after which the current civic flag of Dubrovnik was made.
Željko Heimer, 30 October 2004
Flag According to Steenbergen Book (1862)

image by Jaume Ollé, 27 April 2003
No. 504 - Ragusa.
Source: [stb62]
Jaume Ollé, 27 April 2003
---
Flag According to Steenbergen Book (1862)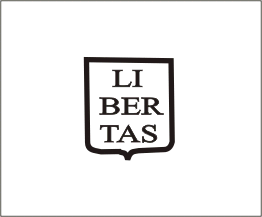 image by Jaume Ollé, 18 April 2003
No. 459 - Ragusa.
Source: [stb62]
Jaume Ollé, 18 April 2003
---
Special ensign, typically as the flag indicating that the high officials of the Republic are on board of the vessel.
Željko Heimer
---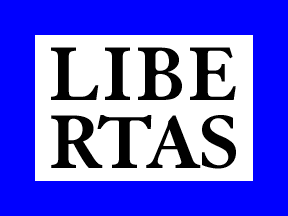 image by António Martins-Tuválkin, 22 June 2009
Croatian stamp issued 19 April 1993 (800 HRD), show a drawing of a tower in Dubrovnik city walls with the city/Republic flag flying atop: variant of the flag of the Republic: white with blue border inscribed LIBE/RTAS in two rows in the middle.
This is highly stylized depiction of the flag.
It should clearly be stated that such flag design was, as far as I know, never used in Dubrovnik. This is simply an artistic view of the flag of Dubrovnik - very stylized - and inventad by the artist who was designing the postage stamp.
Source: <www.posta.hr>
Željko Heimer, 12 September 2007 and 15 August 2009
---