This page is part of © FOTW Flags Of The World website
Croatia - Historical Flags (1848-1918)
Last modified: 2010-02-19 by dov gutterman
Keywords: croatia | ban | dalmatia | slavonia |
Links: FOTW homepage | search | disclaimer and copyright | write us | mirrors

---
---
See also:
Other Sites:
---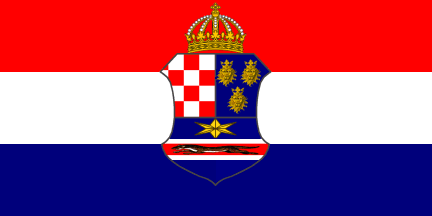 image by Marko de Haeck, 8 April 2005
In 1848 the tricolour was first used as a flag. The tricolour is based on the colour of the coat of arms, often the coat of arms was set in the middle in various artistical redentions. This flag remained the Croatian national flag ever since, though it was not unfrequently prohibited by various regimes. For example, it was prohibitied between 1852 and 1860.
Željko Heimer
---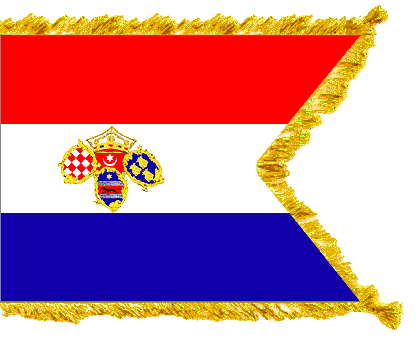 image by Janko Ehrlich-Zdvorak, 12 December 2001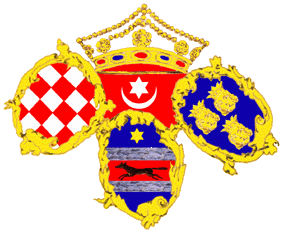 image by Janko Ehrlich-Zdvorak, 12 December 2001
Ratio: 3:4
Use: Ban's standard of Ban (Vice-roy) Josip Jelacic, 1848; Ban's standard of Ban Josip Sokcevic, 1860
Reverse: the family coat of arms of Jelacic, i.e. Sokcevic
Finial: crescent and six-pointed star
Fringe: golden, all edges except hoist
The material used for flags has very notable floral texture.
The Ban's standard of Ban J. Jelacic is the first official Croatian tricolour.
Flag of the governor Josepa Jelicica 1848 - During Ban (vice-roy) Josip Jelacic bannate it was introduced the Croatian tricolour. The inauguration flag of JJ was the first official tricolour used. A phone card shows the reverse, with Croatian coat of arms, on obvers there is Jelacic family Coat of Arms.
Željko Heimer, 13 March 2000
First Croatian tricolour actually was not a national flag, but standard of ban (vice-roy) Josip pl. Jelacic. On the obverse side it has Croatian, Slavonian and Dalmatian coat-of-arms, together with a crown and Illyric symbols - six-pointed star and crescent. On the reverse it has pl. Jelacic's family arms. It was made of Croatian red-white and Slavonian blue-white colours and for the first time raised in Zagreb on September 7, 1848. On that day pl. Jelacic led Croatian troops towards Hungarian revolutionaries Lajos Kossuth. When reached - at that time - border near Varaždin, he substituted this flag with imperial black-yellow. Before, vice-roy standards usually were red and they bear national arms on one side, and vice-roy's family arms on another. After defeat of revolutionary movements of 1848 - 1849, in Habsburg Empire was strictly forbidden to show national colours. In 1860s they were allowed again. From then, Croatians use red-white-blue colours as their national symbol.
Janko Ehrlich-Zdvorak, 12 December 2001
It may be useful to add that virtually the same flag was used latter by at least one other Ban. At least only one other Ban flag of this design is preserved in Croatian Historical Museum (HPM), namely that of Ban Josip Šokcevic (Sokcevic), inaugurated in 1860. Of course, the family coat of arms on reverse was approprately changed.
Jelacic's flag is also preserved in HPM.
Željko Heimer, 12 December 2001


image by Željko Heimer, 15 January 2002
I was reminded by some documentary films on TV today of a flag used in Zagreb around 1990. The flag was named then in media as the flag of Ban Josip Jelacic, but it was in fact a ornamental flag hoisted only in the middle of the main square in Zagreb. It was hoisted since about 1989, when it was decided that the statue of the named Croatian Ban shall be returned to the main square (at the time called Republic Square, before and now named after the Ban). This flag symbolized the return of that statue, as the physical return was not possible at the moment (the statue had to be cleaned and prepaired, it was held in basement divided in parts in one museum). The return of the statue had great symbolic significance.
When the statue was returned in 1990, the flag was remained in the main square in honour position just behind the statue (actually it was being cleaned regularly) until several years latter, probably until it was made unusuable by passage of time. Nowdays, a "normal" Croatian flag (in long ratio) is hoisted at the same point.
The flag is vertically hoisted, long, ratio about 1:4, white with tricolour set diagonally defaced with coat of arms of the Triunar Kingdom of Croatia, Slavonia and Dalmatia. The reverse of the flag was the same with the CoA replaced with the CoA of Ban Josip Jelacic.
The flag is based, obviously on the 1848 flag of Ban Jelacic, but was changed considerably in graphical design. It was hoisted still when Croatian flag had the red star in the middle, as predcessor of the soon to be made changes.
This flag was not official in any way, but nevertheless has importance in the Croatian flag history.
Željko Heimer, 15 January 2002
---
The tricolour was strictly forbiden in 1852, and "landesfarben" for each of the lands were supposed to be used and prescribed by Imperical decree of 10 September1852 (the decree was valid in Croatia and Slavonia, only, and only the two flag are mentioned in it). Around 1860 the tricolour was again introduced.
Željko Heimer
Croatia
Slavonia
Jaume Ollé in his series from Steenbergen Book (1862) [stb62] sent:
- 1010 - Slavonia (Pincipality in the Danube) - Yellow over red bicolor.
- 1011 - Slavonia, (Pincipality in the Danube) - Yellow over blue bicolor.
The only Slavonia that I am awere of is not on the danube (see: Pozega and Slavonia County) and its flag was blue over white.
Dov Gutterman, 18 September 2003
I guess that this must be a mistake, as I am not aware of anything remotely similar. Slavonia in 19th century was the name of one of the three kingdoms that were untied to form the Croatian national state within the Habsburg Monarchy. It covers the eastern part of the current Croatia minus Baranya region, plus that part of Srijem/Srem that is now in Vojvodina reaching the outskirts of Belgrade. So Slavonia was bordered with three rivers - Drava, Sava and Danube. Even today, the Danube forms the eastern border of Slavonia partially.
But anyway, I have no idea to what Steenbergen was refering to with those bicolours... The shipping on Danube was already very well orginized at the time...
Željko Heimer, 18 September 2003
Dalmatia
Rob Suleman asked about a Dalmatian flag charged with the Coat of Arms (3 crowned leopards heads). There was no such flag. There was of course the coat of arms of that design - blue with three golden crowned leopard (lion guardant) heads. The flag that "went" with it in Austrian times was yellow over blue bicolour without any emblem, as was custom of Austrian "landesfarben". The coat of arms was possibly sometimes set in it, but this was far from official. After 1918 there was no administartive region of Dalmatia, and no flag was used. The modern Croatian counties inherit blue and yellow colours, but none have right to "claim" enitre historical Dalmatian coat of arms. The coat of arms if, on the other hand, included in the Croatian coat of arms and the flag.
However, mostly as souvenirs, the banners of arms of Dalmatia were sometimes used, and ocassionally Italian groups with pretentions on Dalmatia, or those who left Dalmatia after Word War II used such flags in last 50 years - always unofficial.
Željko Heimer, 8 Febuary 2002
---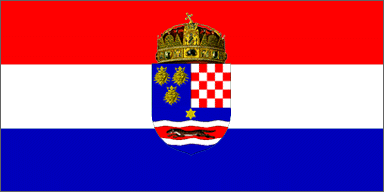 image by Janko Ehrlich-Zdvorak, 16 September 2001
The flag of this design was mass produced (manufactured by printing on textile) in Zagreb around 1894. (a sample is preserved in HPM). The flag is more detailed prescribed on 19 June 1876, and by the Croaian-Hungarian Agreement (of 1869) and an edict of 16 September 1876, the crown above the shield should be the St. Stephen's Crown. The edict of 20 December 1899 detemines inverted order of the Croatian and Dalmatioan coats of arms in reard to 1876 prescriptions (i.e. it prescribed that the wordl "left" and "right" in 1876 prescriptions should be understood in heraldic manner). In use: since 1867. Adopted: 1868. Abandoned: 29 December 1918
Željko Heimer
On the Croatian historical portal at <www.crohis.com> include intersting sources of documents from the Croatian history. Among them is the text of the Croatian-Hungarian Agreement (Nagodba) that followed similar agreement agreed between Austria and Hungary (known as the Ausgleich). Regarding the symbols of Croatia is regulated in articles 61 though 63 (My translation):
"§. 61. In the autonomous affairs within the borders of the Kingdoms of Dalmatia, Croatia and Slavonia it should be used the united colours and coats of arms of these Kingdoms, provided with the Crown of St. Stephen.
§. 62. When signifying the affairs common to all the kingdoms of the Hungarian crown, it should be used the united coats of arms of the Kingdoms of Hungary and Dalmatia, Croatia and Slavonia.
§. 63. For the discussions of the common affairs, on the buildings in which the common parliament of the Lands of Hungarian Crown is held, it should be flown togther with Hungarian flag also the united flag of the Kingdoms of Dalmatia, Croatia and Slavonia.
Željko Heimer, 30 December 2007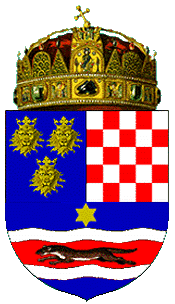 image by Janko Ehrlich-Zdvorak, 16 September 2001
Recently I found in the Monthly of the "Lawyers Society of Zagreb", year XL, book II, No. 12, December 1914. (p. 1048-
1049), the Decree of the Vice-Roy of the Kingdoms of Croatia, Slavonia and Dalmatia Issued on November 21st, 1914 No. 8378/Pr. Related with Usage of Flags and Emblem:
"Since during the time became a custom in Kingdoms of Croatia and Slavonia to use flags which are not adequate either in state-juridical or in political sense. So, because except of the decree of the Imperial and Royal High Command in Zagreb of April 8th, 1885, No. 231/Pr., which was issued naturally only for the former military frontier, there are not general regulations for usage of flags, I order:
§ 1. - According to the § 61 article I from the year 1868 of Agreement and of decree of the Department of Interior of the Royal Country Government of November 16th, 1867, No. 18.307, red-white-blue tricolour is civil flag in the Kingdoms of Croatia and Slavonia, which with the united Coat-of-Arms of Croatia, Slavonia and Dalmatia with the crown of saint Stephen on the top is official flag for usage in autonomic affairs. Above-mentioned civil flag may use everyone in appropriate way.
§ 2. - Besides, as it was stated in mentioned decree of the Imperial and Royal High Command, it is allowed to everyone to use in proper way in public celebration occasions red-white-green Hungarian tricolour and black-yellow Austrian flag. Furthermore, at special occasions it is allowed usage by authorities recognised flags and Coat-of-Arms of county and town municipalities, free and royal towns, administrative and noble communities and some noble families.
§ 3. - Usage of flags of other countries and other civil or political flags is not allowed. Exceptionally, local authority may allow usage of flag of foreign sovereigns and countries in special occasions in honour of sovereign, member of ruling house or representative of foreign friendly country, or to that country itself. The same rules apply to every other usage of colours and
emblems of foreign countries.
This decree does not interfere in right of persons protected by international law to use flag of country, which they are representative.
§ 4. - Public corporations, civil societies and guilds and private societies must use only flags, which are approved by authority.
§ 5. Police authorities must punish violations of this decree with fine of 2 to 200 K or with arrest from 6 hours to 14 days and confiscate unauthorised flag or emblem.
§ 6. This decree is valid from the day of proclamation.

Zagreb, November 21st, 1914.
Dr. Ivan baronet Skerlecz, pers. sign."

That means that ONLY the coat-of-arms of triune kingdom with the crown of st. Stephen was official emblem of the country. Of course this only in Croatia and Slavonia, since Dalmatia was at that time in Austrian part (subject to change). The arms was in usage until October 29, 1918, when Croatia left from the Austro-Hungaria. In Croatia and Slavonia this emblem one may see at many contemporary buildings, mostly for administrative or educational purpose, but also on the roof of st. Marc parish church located on the Zagreb's Upper Town, between Parliament (Sabor) and Vice-Roy's Palace (Banski dvori).
However, there were many variations of the official version, even those with another type of crown (many people did not liked Hungarian dominacy), or without any crown. There were also many types of shields. There were no any extra add-ons, only some times branches of olive and oak were presented on each side of arms.
Janko Ehrlich-Zdvorak, 18 August 2001
Previously I sent an image of coat-of-arms with round shield, later I found one, more precise source saying that shield "...must have sharp pointed ending".
Janko Ehrlich-Zdvorak, 16 September 2001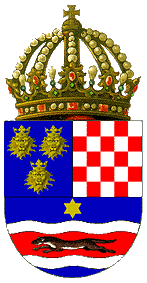 image by Janko Ehrlich-Zdvorak, 18 August 2001
This is the unofficial (wrong) version of the Kingdom of Croatia, Slavonia and Dalmatia Coat of Arms 1867-1918.
Janko Ehrlich-Zdvorak, 18 Željko Heimer
Unofficial, and wrong - but still this was the preffered design, and probably the widespread use of it induced the vice-roy to make the procalmation quoted above. A very similar design was to be seen in works issued in Mayers Konversation Lexikon from 1897, where the CoAs are drawn by the leading Austrian heraldist of the time (Ströhl). The relevant portion of the 1868 Accord is quoted in Boroscak: Zastave kroz stoljeca [bor96] and [bor96a].
Željko Heimer, 19 August 2001
---
The Uprising in Rakovica from 8 October to 11 October 1871, led by Eugen Kvaternik (1825-1871) is the first attempt of forming of a modern national state of Croats. Even if unsuccessful, it had a great influence to the latter history. Reconstruction of the flag based on contemporary seals and descriptions, it is dubious if such flag was ever made.
Željko Heimer
---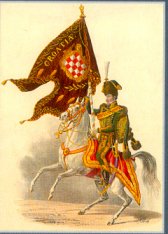 image by Istvan Molnar, 18 November 2000
The kings of Hungary (icluded Francis-Joseph I (1867-1916) and Charles IV (1916-1918)) had, approximately, the following titles: "Apostolic King of The Kingdom of Hungary and the King of Czechia, Dalmatia, Rama, Serbia, Galicia, Lodomeria, Cumania and Bulgaria". They were the countries which were under the rule of the Hungarian kings, maybe only for a short time. The title is not correct, the list of the countries and the picture were found by me in the Rubicon Historical Review. On the picture you can find the Croatian flag.The picture could be made in 1867 or 1916.
Istvan Molnar, 18 November 2000
---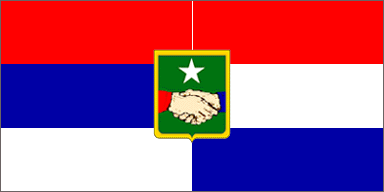 image by Janko Ehrlich-Zdvorak, 31 October 2002


image by Janko Ehrlich-Zdvorak, 31 October 2002
Flag of cultural society "Croatian and Serbian People's Home" from Cavtat (southernmost place in Croatia) dating 1905, can be seen at <www.rastko.org.yu>. The picture of the flag was printed in Statute of the society, published in Dubrovnik, 1905. I have never seen such variation in south-slavic vexillology. This flag is made of two national tricolors merged verticaly, with coa representing shaking hands on green background with silver five-pointed star...
Ivan Sarajcic, 30 July 2002
In nineteenth and early twentieth centuries, there were some obscure attempts to transform Croats into Serbs of Catholic faith. One of such societies which propagated such ideas was Society "Croatian and Serbian People's Home" (Drustvo "Hrvatski i srpski narodni dom"), established 1904 in Cavtat, a town located at the southernmost part of Croatia. This society used a flag compromised of colours of Croats and Serbs which followers called: "People's flag of united Croats and Serbs". Although in the statute of that society the coat-of-arms" was not mentioned, it was clearly pictured in the pamphlet "People's flag of united Croats and Serbs"issued by Cavtat and Konavle Brotherhood (Cavtatsko i konavosko bratstvo) in Dubrovnik, 1905.
Janko Ehrlich-Zdvorak, 31 October 2002
---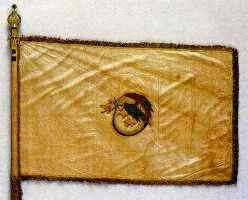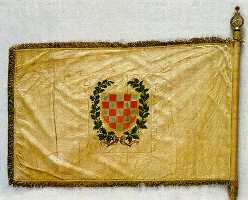 image from Croatian History Museum site by courtesy of Jelena Borosak Marijanovic
Bigger images at <jagor.srce.hr/hpm/m013400v.jpg> and <m013401v.jpg>.
Flag of the Brethren of the Croatian Dragon - Zagreb 1930
Double pale yellow cloth, accessories, wood, gilt bronze, painting
78 x 130 cm, length of staff 270 cm
A rectangular flag edged with fringes. Obverse: in the centre of the field there is the painted emblem of the Society - a green dragon with his tail wrapped around his neck. Reverse: in the centre of the field there is the historic Croatian coat of arms with white-and red fields wreathed with an oak and lime branch, tied with a tricolour ribbon. The staff, which passes through a sleeve, has a finial in the shape of a lime leaf with the emblem of the Society in the centre and the motto: PRO ARTIS ET FOCIS DEO PROPITIO. The foliate finial stands on a semicircular attachment with the engraved date: 1905.-16. XI. 1930.
J. Borosak-Marijanovic, Zastave kroz stoljeca, Zagreb, 1996, page 139.
The Brethren of the Croatian Dragon is a society of nobleman and otherwise eminent persons (writers, intelectuals, philantropes etc.) with goal of promoting Croatian cultural and natioanl values. The society was established in the begining of XX. century (maybe 1905, as indicated on the flag?), working until the end of WW II (as far as I know) and recreated in 1990. The Society today uses similar (or the same?) flag made no doubt according to this flag in the museum.
Željko Heimer, 28 September 1999
The reverse of the flag show the dragon society emblem, a green dragon with his tail around the neck. The order is kind of humanitarian society, first formed by Croatian nobility but afterwards "secularized". The order take special care on Croatian cultural herritage. It was disbanded in 1945, but renewed in early 1990's, when the new flag (based on this one) was made.
Željko Heimer, 16 March 2000
---
On the web site of the City Museum of Varaždin there are now pages from the exhibition "Year 1848 in varaždin" by Magdalena Loncaric, the curator of the Museum. It includes photos of one old example of the national flag: A rare example of a preserved Croatian tricolour from the 1848 or some years afterwards. A simple almost square tricolour without any additional symbols. It may be one of the flags used in 1848 to ornament streets when Ban Jelacic visited Varaždin on 7 September 1848, on his way from Zagreb towards Hungary to quell the uprising there.
Source: City Museum of Varaždin.
There are also two paintings:
- Session of the Croatian-Slavonian-Dalmatian Parliament of 4 July 1848, painting from 1885, showing several flags, among others the Croatian triclour with the crowned Coat of Arms of the Triunited Kingdom, the Habsburg yellow-black bicoliur with the Habsburg Coat of Arms and some other banners. (from the Croatian Histroy Museum).
- The Slavic barricade in Vienna, 1848, drawing considered to be the first documented use of the Croatian tricolour (from Croatian History Museum, catalogue by Borošak-Marijanovic, 1996)
Željko Heimer, 20 December 2009
---
I have been visiting my stamp dealer . There are several flag stamps that should be reported here. The most interesting issue was issued on 25-MAR- 1998, named "Croatian Historical Events 1848", consisting of three se-tenant values 2 x 1.6 and 4 kn. They are printed in small sheets of 15 stams i.e. 5 series. Both stamps of lower values are of vex interest, while the value of 4 kn bears the portrait of the Croatian Ban Josip Jelacic.
The first 1.60 kn stamp showes detail of the colour lithograph Vienna 1848, the battle near Moor, December 30, 1848, and in foreground the flag of Ban Josip Jelacic.
This is the first official Croatian tricolour, with the coat of arms of "triunar" kingdom of Croatia, Slavonia and Dalmatia in the middle. You can take a look on my image of it on my pages At FAME.
The other 1.60 kn stamp pictures reproduction of a painting of Dragutin Weinga:rtner of 1885 called "The Session of the Croatian Assembly in 1848". The picture have images of important people of the time, imcluding Ban Jelacic, but for us is the most interesting the flag hoisted there - a tricolour with Coat of Arms of Triunar Kingdom, also to be seen at FAME.
Željko Heimer, 7 June 1998
---