This page is part of © FOTW Flags Of The World website
Ascension Island (Dependency of Saint Helena)
Last modified: 2006-07-29 by Željko heimer
Keywords: saint helena | atlantic ocean | ascension |
Links: FOTW homepage | search | disclaimer and copyright | write us | mirrors

---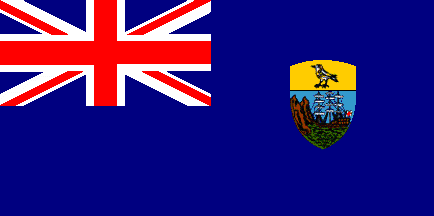 by Blas Delgado Ortiz, 11 September 2000

---
See also:
---
Tristan da Cunha got a flag in 2002, so that only leaves Ascension Island to get a flag. They have just decided to become self-governing, like Tristan, so I suspect they will be applying for a Grant of Arms quite soon. Then we'll have to get on with designing the new flag. Given that they have an airport hopefully it won't be quite as long as process as Tristan's was.
Graham Bartram, 20 October 2002
I am informed (by the chap doing the work) that designs (for a coat of arms) are at present being prepared for consideration by the Ascension Island authorities (following suggestions by them), so the process has begun.
Christopher Southworth, 9 April 2005
---
Ascension Island is a small speck of land in the middle of the South Atlantic, and has been a British possession since the Napoleonic Wars and immediately afterwards, when it was a support base for preventing any rescue attempts to liberate Napoleon from St Helena. It has functioned as a dependency of that island for much of its history, but has never had a permanent resident population as has that island. Most of its inhabitants have over the years been initially British and latterly American military and technical personnel; it has played a major role as a tracking station in the US space program as well as serving as a staging area for the British relief expedition to the Falklands.
Ron Lahav, 9 March 2005
Ascension Island is a dependency of St. Helena. So the correct flags are the Union Flag and the St. Helena flag. If they follow the tradition of the other St. Helena dependency, Tristan da Cunha, they will put both flags on the same pole, with the Union Flag uppermost (much like some Americans do with the Stars & Stripes and State flag).
Graham Bartram, 7 February 1998
The French Navy flag book known as L'Album for short, in the 2000 issue [pay00] notes on the Saint Helena pages that "Ascension Island flies the British flags undefaced".
Željko Heimer, 20 January 2001
A little bit of info from Carr's FOTW, 1961 [car61]: "Ascension became a dependency of St. Helena in 1922. Previously, this island was administered by the Board of Admiralty and flew the White Ensign."
Jarig Bakker, 4 September 2001
---
University of Wales, Swansea
Mr. László Balogh (who collects flags and manages the Flag Museum in Budapest) received a letter from Administrator of Ascension Island, dependency of St. Helena. Administrator sent him a brochure or leaflet displaying a shield or badge of "Ascension Island", which also appears on Blue Ensign. Mr. Balogh gave me a copy of part of this publication, so I scanned this badge. [Vert behind an open book crossed palewise a sledge hammer an anchor in bend and a pick-axe in bend sinister all Argent and in the chief of the last a dragon passant Gules]
However, the home page of Administrator of Ascension Island on http://www.ascension-island.gov.ac shows a picture of Administrator's Office, and only the British Union Jack flying on a flagpole planted in front of the building.
Zoltan Horvath, 3 September 2001
The arms shown the University of Wales in Swansea (hence the Red Dragon and green and white field). I think the University has a wildlife project on the Island. If you look at http://www.ascension-island.gov.ac/postoffice/ascturtles_mar99.jpg you will see a set of stamps from the island along with the arms and name of the University.
So the blue ensign with this badge is bogus! I know Ascension Island wants a flag, but they won't be allowed to use someone else's Arms. They will need to get a grant of arms from the College of Arms before they can ask for those arms to be used on a defaced ensign. Nowadays territories' flags no longer use non-armorial "badges".
Graham Bartram, 5 September 2001