This page is part of © FOTW Flags Of The World website
Maputo (Mozambique)
Formerly: Lourenço Marques, national capital
Last modified: 2005-12-17 by bruce berry
Keywords: maputo | lourenco marques | matola |
Links: FOTW homepage | search | disclaimer and copyright | write us | mirrors

---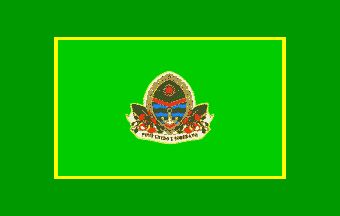 image by António "Kitabulu" Teixeira, 18 Oct 2002 See also:
---
Maputo flag
The current flag and emblem of the Maputo Municipality, they were sent by António "Kitabulu" Teixeira, a local vexillologist, based upon direct observation.
Mozambican municipalities are being reorganised and apparently there are already 32 municipalities, many with flags.
António Martins-Tuválkin, 21 Oct 2002
---
Maputo emblem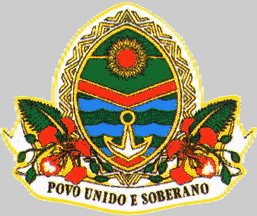 image by António "Kitabulu" Teixeira, 18 Oct 2002
---
First Lourenço Marques flag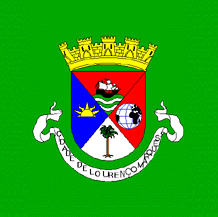 image by Jorge Hurtado, 19 Oct 2002

Here are the old flags of Maputo, then Lourenço Marques, the first one, green, before 1962, and then (until 1975) in the classic Portuguese gyronny.
Jaume Ollé, 19 Oct 2002

Are you sure that the Coat of Arms is correct? On Ralf Hartemink's page the top quarter is gold/yellow, not red. The sails are red, not white. Moreover the motto on the banderol below the Coat of Arms is virtually illegible, almost Arabic...
There seem to be two different mottos on the Coat of Arms, for the first image something like Cidade de Lourenço Marques, for the second image a similar motto in quite different lettering, whereas on Ralf's site it reads: DESCOBERTA SOBERANIA PORTUGUESA.
Jarig Bakker, 21 Oct 2002

I'm not the author of this images. They were made by the Spanish vexillologist and editor of Gaceta de Banderas, Jorge Hurtado who generally well informed and accurate. These images came from a series of local colonial flags researched by the Catalan vexillologist Adolfo Duran and published in Banderas.
Jaume Ollé, 22 Oct 2002

I indeed remember the motto "DESCOBERTA E SOBERANIA PORTUGUESA" ("Portuguese Discovery and Ownship") applied to Lourenço Marques, though it may later have been changed to the more standard "Cidade de Lourenço Marques".

A note on Portuguese colonial sub-national flags, or rather the arms thereon, is that they come in two types: Older ones, usually created unofficially by local elites and brought into use before the normalization of Portuguese sub-national heraldry in the 1930s (which officialized these much more often that it did to its metropolitan equivalents); and much later ones, created by official state heralds and attributed in the 1940s and later to some of the colonial cities and towns.
The second type is usually much better designed with real "reborn" heraldry (massive British influence, I'd say), with clear esthetical and theoretical improvement when compared with the metropolitan arms created a couple of decades before. (One of these traits, is the frequent use of real mottoes on the motto scroll.)
The first type (to which the arms of Lourenço Marques belong)s were usually pieces of tacky amateurish heraldry, and I wouldn't be surprised to see them changed at whim at least on details such as colours.

Perhaps the two images by Jorge Hurtado, after and before the normalization (hinted by the swap of a monocoloured background to a gyronny one) use incorrectly the same arms? Perhaps the arms before1930 are as shown in Ralf's Hartemink site?

As for the motto Portuguese Discovery and Ownship, it stresses Portuguese sovereignty over the city - not against any native claims (towards whom the argument "discovery" would be risible, even in the time when it was created) but against British South Africa. Maputo has an excellent deep water harbour and lies near to the South Africa-Mozambique border. For that reason the provincial capital was put there (most asymmetrically situated, compared to, Beira), away from the Mozambique Island in the north.
António Martins-Tuválkin, 28 Oct 2002

---
Second Lourenço Marques flag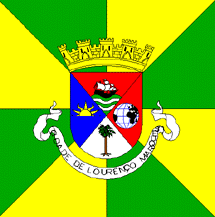 image by Jorge Hurtado, 19 Oct 2002
---
Lourenço Marques Coat of Arms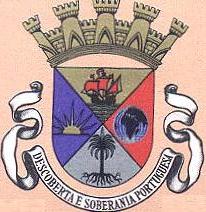 image from Ralf Hartemink's site.
---
Matola town flag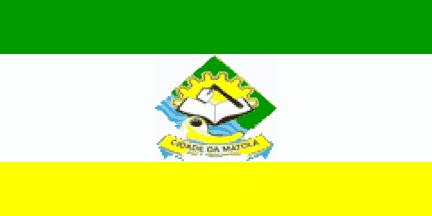 image by António "Kitabulu" Teixeira, 10 Dec 2004

Matola is the seat of Maputo Province, in Mozambique. According to this website (reported by António Kitabulu Teixeira), its flag is approx. 1:2, 1V 2W 1Y, with the municipal emblem in the middle. This displays a river border scene and includes a book, a cogwheel and a hoe, also found in the national emblem, and also what looks like a smoking pipe, and a scroll reading "CIDADE DA MATOLA / PAZ E PROGRESSO".
António Martins-Tuválkin, 10 Dec 2004

---