This page is part of © FOTW Flags Of The World website
Croatian Antifascist Movement (1941-1945)
Last modified: 2009-07-26 by dov gutterman
Keywords: croatia | antifascist movement | nopoj |
Links: FOTW homepage | search | disclaimer and copyright | write us | mirrors

---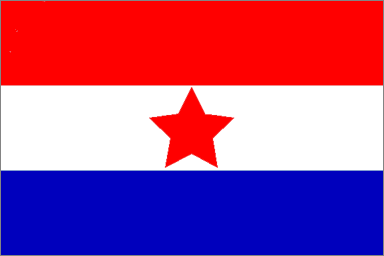 image by Janko Ehrlich - Zdvorak, 21 September 2001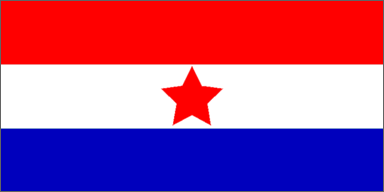 image by Janko Ehrlich - Zdvorak, 21 September 2001
---
---
See also:
---
On the meeting of Highest Command of the People's Liberation Movement of Liberation of Yugoslavia (NOPOJ) and volunteer units in Stolice (Serbia) on September 26, 1941 (confirmed by the decree of Highest Command of the NOPOJ of October 1, 1941) was decided that: "All headquarters and commandants of Partisan units on their area must immediately find responding national flags. In the middle of the flag and stretched over whole width must be a five-pointed red star.".
According to this, members of the Croatian antifascist movement (Partisans) were using as their flags Croatian red-white-blue tricolour with a red star in the middle, touching edges of upper and lower stripe.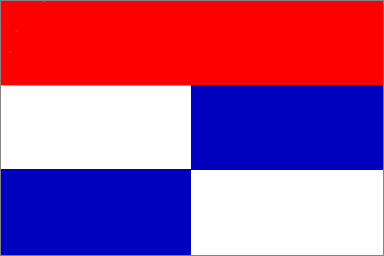 First Partisan flag in Lika
image by Janko Ehrlich - Zdvorak, 21 September 2001
However, the first Partisan flag showed-up in Croatia was one in Lika (Lika is a part of Croatia situated between Dalmatia and the rest of Croatia (main city is GospiŠ (Gospic). There is population mixed (Croats and Serbian minority).
but it was made half of Croatian and half of Serbian colours, without any star.
Later, in 1943 at the third congress of United Antifascist Council of People's Liberation of Croatia (ZAVNOH, kind of
parliament) was adopted and confirmed that Croatian flag is tricolour with the red star. Of course, at that time there were not any specific regulations related with dimensions. It is to assume that old Bannate or Independent State of Croatia civil flag were used with applied red star. Anyway, many examples were made in other ratios.
Janko Ehrlich - Zdvorak, 21 September 2001
Reading this straight-forward wouldn't it meant that the star is reaching the top and bottom edges of the flag? Certainly this was not the meaning.
Regarding the Lika flag, even if I haven't done much research - this was a one-time "incident" (though important, since it was the first flag). Otherwise the traditional tricolour flags defaced with red stars were used - and usually both Croatian and Serb tricolour were hoisted side by side. (I don't have any firm sources to back up this, but at least I remember that a number of propaganda posters made by Partisans in Croatia during and immediately after the War showed both flags.)
In some of the encyclopedias of JLZ (lexicographic institute in Zagreb) once I have seen a flag that was supposedly the first partisan naval ensign - that consisted of the Yugoslav tricolour with star and anchor in its middle and with fly end having three flags over above the other, Slovenian, Croatian and Serbian (Montenegrin). I think that it might have been in "Pomorski leksikon" or in "Vojna enciklopedija", though not in that issue of the last that I have checked. Since I saw it, quicly in some used-books fair, I am trying to locate it again, but in vain .
The practice of reusing other flags with application of the red star was quite common, apparently. (I guess that Ustasha badge would be removed first, for sure, though there was certainly a good number of captured flags in rural areas where there was never the badge appliqued anyway.
As an example it may be taken a flag of Croatian Pessants' Party (HSS) from Goricica aroudn Sisak, shown on pages 140-141 of the catalog of the flag exhibition in the Croatian History Museum [bor96], the inventory number HPM/PMH 11866: Croatian tricolour sized 117x375 cm, richly embroidered with Peasants' Party emblems and agricultural motives, and maybe one of the nicest flags in their collection. In the middle of the flag it is visible stain that is left from, probably sewed, red five-pointed star that was presumably added during the WWII, and presumably it was latter removed, or it was lost, before the item came to Museum. Sisak area was very active in Anti-Fascist struggle.
IMHO, this stains make this museum item even more interesting and providing much bigger story then an already nice flag would do in itself. I would very much like to learn more about the story of this flag.
I am sure that there are other flag in Croatian History Museum that have similar features, and certainly there should be more such examples in local museums, too.
Željko Heimer, 28 September 2001
Translated from :Proceedings of Laws, Decrees and Orders (Zbornik zakona, uredaba i naredaba), the Official Gazette of the Federal State of Croatia (Narodne novine), Year I, Vol. II, No. 30, Page 87, Issue 25th September 1945, Zagreb.
"Nations of Yugoslavia went into struggle and fought unyielding battles against the enemy, carried their National flags with the five pointed Star as symbols of the National Liberation Struggle.
At the Historical 2nd Session of the Antifascist Council of National Liberation of Yugoslavia, held in Jajce on 29th of November 1943, at which the foundations of the Democratic Federal Yugoslavia were laid, the State Flag became the symbol of strength of all Nations of Yugoslavia.
The five pointed Star on flags is the star which has shined to us and gave us strength and belief in hardest times of national uprisings and enemy offensives, it instills unshakeable confidence that the Nations of Yugoslavia, under the leadership of the National Hero Marshal Tito will enjoy days of liberty, happiness and fortunate existence
Regarding all of the above, the duty of each individual is to respect these sanctities, and therefore
I o r d e r :
1. In all occasions when the National flags and the Yugoslav flag are hoisted or carried, these must only the flags with the five pointed Star on the middle field, laid in a way that the peaks of the points of the five pointed Star grasp other fields. This is the only form of our State flags and other flags i.e. the ones without the five pointed Star are not to be displayed.
2. At all of the State Institutions in the area of the Federal Croatia, it is obligatory to fly the Yugoslav State Flag and the Flag of the Federal Croatia.
This order is valid immediately from this moment on.
Death to Fascism - Freedom to the People!
Ministry of Interior Affairs No. 1644.-45.
26th of May 1945.
Minister of Interior Affairs: Vicko Krstulovic, m. p."
This is an interesting source on the flags of the Federal State of Croatia (1943-1945) within the Democratic Federal Yugoslavia.
From this source it could be clearly understood that even in this initial period the five pointed red star ought to be displayed with three of the peaks of the points entering into the red and blue stripes of the flag.
This source also defines that all of the Nations of Yugoslavia have the right to display their flags if and only if the five pointed red star is presented on them.
User from Croatia, 1 November 2008
---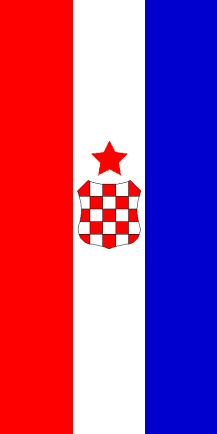 image by Željko Heimer, 26 March 2006
I received a letter from Mislav Miholek, who specialized into study of history of WWII in Croatia especially the military history. I summarize and translate it as follows:
The flag used by Croatian partisans - displayed on the local conference of the National Liberation Commettee in Jastrebarsko in May 1945. The drawing made by Mislav according to a photo published in a monograph celebrating 25 years of the 2nd Session of ZAVNOH (Zemaljsko Antifašisticko vijece narodnog oslobodenja Hrvatske - Regional Antifascist Council for the National Liberation of Croatia - the governing body of Democratic Federal Croatia within Yugoslavia).
The flag is vertically displayed national tricolour with the coat of arms set in the middle and above it a red five-pointed star. I guess that the flag was in existence before 1945 (even before 1941 - as the order of red and white cheques suggests) without the star that was added to it after the partisans took over, like in several other examples of such flags preserved in the museums in Croatia.
I mentioned red-first Coat of Arms as (probable) evidence of the provenance of the flag being from before 1941, since after that date the Coat of Arms would have almost surely be made with the white-first square. If it were not the Coat of Arms on the flag in the first place when partisans entered Jastrebarsko, the star would be applied almost surely without the Coat of Arms on the tricolour - they would not bother to make the Coat of Arms on it.
Željko Heimer, 26 March and 17 April 2006
---