This page is part of © FOTW Flags Of The World website
Hertfordshire (United Kingdom)
Last modified: 2008-12-20 by rob raeside
Keywords: hertfordshire | st albans | england | united kingdom | saltire |
Links: FOTW homepage | search | disclaimer and copyright | write us | mirrors

---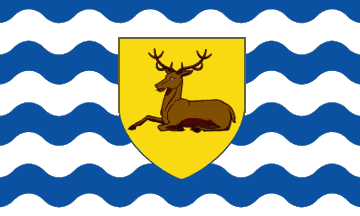 image located by Jason Saber, 2 December 2008
Image by Graham Bartram resized from UK Flag Registry
---
See also:
---
Hertfordshire County Council flies a banner of its arms as a flag. The colours in the flag here are a bit lighter than those in the flag I have.
Jason Saber, 20 August 2008
Quoting "Welvyn & Hatfield Times 24", 25 November 2008:
"Buildings across Hertfordshire will now legally be permitted to fly the county flag. Until now, only the county council could lawfully hoist the flag aloft, but now other organisations and individuals will be able display it. The flag incorporates eight white and blue wavy lines, which represent the many rivers in Hertfordshire. The ensign also includes the image of a gold shield and a recumbent deer.
[...] Welwyn Hatfield Council leader John Dean said there were currently no plans to fly the county flag from civic buildings in the borough."
The source includes a colour photograph (uncredited, undated) showing the flag flying at county hall. It differs from the image shown above in some details:
- The top of the flag is white and not blue
- The waves are more pronounced
This is confirmed by PR7861, released by the Hertfordshire County Council:
"Today's meeting of the Cabinet agreed to allow the flag based on the County Council's coat of arms to be registered in a way which will allow it to be used widely within Hertfordshire. The decision follows an approach from the local representative of The Flag Institute which is the organization that manages the United Kingdom Flag Registry to which the Hertfordshire flag will now be added.
[...] The flag incorporates eight, alternate, white and blue wavy lines which represent the many rivers in Hertfordshire. In the centre is a gold shield with a deer, lying down. In heraldry deer are often described as 'harts' and this animal is widely used in Hertfordshire to allude to the county's name. Once the registration formalities have been completed, the technical description of the flag will be provided to flag makers to ensure that their supplies display the design accurately. Those flying the flag will not need to get planning permission to do so because English county flags are one of a limited number of types that were exempted from the need for consent under government regulations agreed last year. [...]"
Ivan Sache, 25 November 2008
Flag Type: County Flag
Flag Date: 19th November 2008
Adoption Route: Local Council
Designer: College of Arms
UK Design Code: UNKG7417
Aspect Ratio: 3:5
Pantone Colours: Blue 300, White, Yellow 116, Brown 70% 1405
Certification: Chief Vexillologist, Graham Bartram
Notes:
Hertfordshire County Council, under the leadership of Robert Gordon, passed a resolution on 19th November 2008: "This Council has, for the better representation of the County of Hertfordshire and its people, decided that the banner of the County Council's arms, namely 'Barry wavy of eight Azure and Argent an Inescutcheon Or charged with a Hart lodged proper' is a fitting and proper emblem for the county and its people and will from this day be the County flag of Hertfordshire. The use of the full achievement of arms, with supporters and mural crown as a crest, is still restricted to the County Council and those specifically authorised by it."
Jason Saber, 1 December 2008
---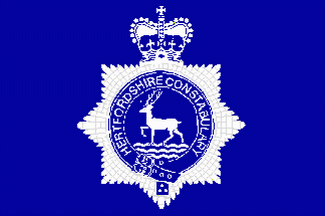 image by Klaus-Michael Schneider, 24 August 2008
A blue flag, ratio maybe 2:3. In the centre of the flag is the crest of Hertfordshire police.
Description of crest: A white police-star is surrounding a blue roundel with a white passant stag over three white wavy lines. The roundel is edged by a belt, maybe some order. Upon the belt is an inscription in white capitals "HERTFORDSHIRE CONSTABULARY". The star is topped by a white royal crown. The grey lines around the segments of the star in reality are white embroideries. At the bottom of star is a blue rectangle with three white points ordered one above two. Note that this pattern is different in crest below.
Source:
I spotted this flag on 5 May 2007 in front of St. Albans Police Station. I saw another red police flag, being still in Herts. near Stanstead Airport.
Klaus-Michael Schneider, 24 August 2008
---
St. Albans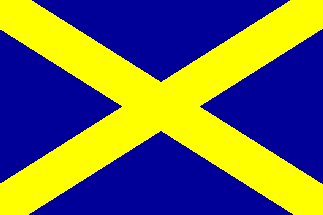 by Ivan Sache, 5 March 1998
St Albans is an English town located in Hertfordshire. The city flag, a yellow saltire on a blue field, is hoisted over the town hall. The corresponding shield can be seen on several municipal buildings.
Ivan Sache, 5 March 1998
This flag is flown over the city and cathedral of St. Albans in Hertfordshire, England. The golden saltire represents the first British martyr St. Alban, a Romano-British soldier.
John Windle, 12 March 1999
The traditional arms of St Albans derive from St Alban being the first British martyr, hence the cross. It is diagonal as he was not crucified, but beheaded. Hence he was entitled to the cross of martyrdom, but not in the usual form. These arms were assigned to St Alban along with those assigned to many other early Christian saints and figures.
Michael Faul, 5 October 2001
The association of St. Alban with a gold saltire on blue seems to have some reality. A quick web search shows "azure a saltire or" as the arms of St. Alban's Parish in Kooringal, New South Wales; and St. Alban's School in Washington, DC, has as its coat of arms "azure a saltire or on a chief gules a Jerusalem cross argent." (I know this violates the law of tincture and may have the field and saltire reversed, but I don't think so.) Also www.magnolialodge.org/MLblazon.htm which is the site of a US fraternal organization, says the gold saltire on blue is the traditional coat of arms of St. Alban. What I haven't found is why.
Joe McMillan, 17 January 2001
Here is a photograph of St Albans Cathedral on this local photographer's web site: http://relay.arglist.com/photos/20050123-002.jpg, (very large file), photograph taken 23 January 2005, showing the flag flown at the Cathedral to be tapered at the fly, with the saltire occupying the first part of the flag only. St Albans Cathedral was also photographed flying the St George's Cross by the same photographer on Monday, 17 April 2006 and Sunday, 24 April 2005, so it is clear that they do not always fly the same flag.

The Diocesan Arms differ from this flag to the extent that the shield has a sword and a crown superimposed upon it, but the Cathedral uses both versions of the arms on its web site. There is further photographic evidence on the same web site which confirms the information in respect of St Albans District Council, styling itself The City and District of St Albans, which flies the flag as described from St Albans Town Hall.

Sources:
(1) Web site of Gary Houston, http://arglist.com/photos/index.html, consulted 12 July 2006. Incidentally, all of these photographs have been released into the public domain, according to the declaration on his web site at http://arglist.com/photos/copyright.html
(2) Church of England, Diocese of St Albans, web site http://www.stalbans.anglican.org/resources/introduction.html, consulted 12 July 2005
(3) Cathedral Church of St Alban, web site http://www.stalbanscatehdral.org.uk, consulted 12 July 2005
(4) St Albans District Council, web site http://www.stalbans.gov.uk, consulted 13 July 2006

Colin Dobson, 19 July 2006
This isn't their flag, it's their pennant. Since the introduction of pennants (aka vimpels) to the British flag scene Cathedrals have been one of the most enthusiastic adopters. They are often just a bicolour of the Cathedral or Diocesan arms, but in St Alban's case the saltire is a simple charge and so they chose to use a pennant that is a simplified version of their flag.
Graham Bartram, 19 July 2006
---
[Note: this was originally written for an Anglican audience. There was no intention to offend or exclude people of other faiths, merely to inform people within a particular church context. An updated version of this article can be found at the Saints and Seasons webpage.]

The fugitive's convert

The 19th-century founders of the Anglican Church in South Africa had a great regard for St Alban, the first Christian martyr in Britain, whose saint's day (in English tradition) falls on June 17(1). Pretoria's Anglican cathedral and diocesan college are named for him, as is the chapel at Draaifontein, west of Port Elizabeth, which gave its name first to a railway halt and then to a prison. The Natal town of Verulam is named for his Roman-British hometown, but that, strangely, has no Anglican church of St Alban(2).

Unfortunately, like many saints of early times, Alban has had myths and legends weaved about his name until we are not sure what it true and what is fantasy. However, at the core of the legend there is enough hard fact for us to appreciate what the man did and what its value is for us. His name was Albanus(3) and he was the son of Roman-British parents who lived in Verulamium, a city (fortified town) on the River Ver in what is now Hertfordshire, during the 3rd century AD. Educated in Rome, Albanus returned to Verulamium, situated on the Roman road now called Watling Street(4), which joined the capital, Londinium, to Viroconium on the Severn (Wroxeter, in Shropshire).

Christianity had arrived in Britain during the 2nd century AD and the British king or tribal ruler Lucius had been baptised. But in 303 the Emperor Diocletian ordered the confiscation of Christian books, the dismissal of Christians from military and administrative posts, and the imprisonment of clergy. In 304 he ordered all Christians to offer sacrifices to the gods.

Enter a priest. His name is not known, but later writers gave him the name Amphibalus(5). Fearing for his life, he begged Albanus for shelter. The priest did not stay long, but in that time Albanus was so taken with his manner and his message that he asked for baptism. Meanwhile the prefect of the city had heard that a priest was in hiding, and ordered Albanus's house searched. Albanus, learning of the search just in time, sent the priest away in disguise and presented himself for arrest in the priest's long coat. "But he was recognised by the judge, who was of course infuriated at the trick which lost him his rightful quarry, and who demanded that Alban should at once offer sacrifice to the gods or pay the utmost penalty due for blasphemy. Alban then declared that he could not obey this command."(6)

The judge questioned him about his family, but Albanus would only tell him his name and that he was now a Christian. The judge ordered him scourged, and when that brought no change, sentenced him to death. A crowd had gathered to watch him taken from the city, across the Ver and to the top of a nearby hill. Legend has much to say about this walk, including the claim that a spring burst forth from the hilltop when Albanus asked for a drink. It also has it that the executioner refused to kill Albanus because he could not harm such a good man. Another swordsman was found to chop off both Albanus's head and the executioner's - and, it is said, was struck blind. The martyr was buried on the hilltop, which became a site for pilgrimage and a church was built above it. The pagan Saxons destroyed the church, and in 793 Offa, King of Mercia(7), rebuilt it and established a monastery which eventually took first place among the Benedictine abbeys of England. Nicholas Breakspear, the only English Pope, was a brother there before going to Rome, where he ruled as Adrian IV from 1154 to 1159. The abbey church dominated the city to the extent that its older Roman and Saxon names were forgotten. Today it is called simply St Albans. The present church building, one of England's largest, was begun in 1077 and added to down the centuries, becoming (in 1877) a cathedral.

Since the 15th century the city has been famed for printing. The "Scolemaster Printer" (name unknown) who operated there from 1479 to 1486, produced The Boke of St Albans, the earliest example of colour printing in England.

(1) He actually died on 22 June 304. The date on his tomb is given as XXII (22), but it was for some reason read as XVII (17).

(2) Other Anglican churches of St Alban are to be found at Pacaltsdorp, Cathcart, Vincent (East London), Engcobo, Green Point (Cape Town), Kimberley, Virginia in the Free State and Mvangana in Zululand. But Verulam was founded by Methodist settlers sponsored by the Earl of Verulam, so they're unlikely to have been thinking of Alban at all.

(3) The name means "of Alba". There is a town of that name near Turin.

(4) The road takes its name from the early Anglo-Saxon name for Verulamium, Waetlingceaster.

(5) Which means cloak. The name seems to have been a later invention.

(6) Quoted from Stars Appearing by Sybil Harton.

(7) The leading Anglo-Saxon kingdom of the time.

Mike Oettle, 23 January 2002

See also: