This page is part of © FOTW Flags Of The World website
West Midlands (United Kingdom)
Last modified: 2009-05-24 by rob raeside
Keywords: west midlands | birmingham | ermine | pelsall | black country | dudley | halesowen |
Links: FOTW homepage | search | disclaimer and copyright | write us | mirrors

---
See also:
---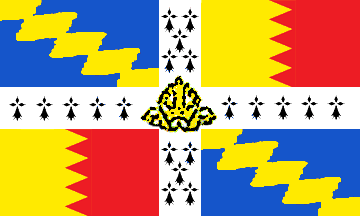 image by Chris Hancox
The city flag of Birmingham (England) as flown from the council buildings which I observed on a recent shopping excursion.
Chris Hancox, 24 December 2006
Birmingham City Council flies daily from the main flagpole at Council House, Victoria Square in the centre of Birmingham, a flag representing its arms, known as a banner of arms. There is a secondary flagpole, lower down the main frontage, on which it tends to fly the Union Flag. The banner of arms is blazoned by the city council as follows:

"Quarterly first and fourth Azure a Bend of five Lozenges conjoined Or second and third per pale indented Or and Gules over all a Cross Ermine thereon a Mitre Proper."

It is a flag divided into quarters. In the top left (first) and bottom right (fourth) quarters is a diagonal line of five yellow diamonds on a blue background. These symbolise the arms of the de Bermingham family, former Lords of the Manor and are probably taken from the effigy of Sir William de Bermingham dated 1325 and extant in the Victorian church of St Martins in the Bullring, in Birmingham city centre. The top right (second) and bottom left (third) quarters are divided vertically with a zig-zag (indented in the blazon) line, yellow on the left and red on the right. These originate from the arms of another branch of the same Bermingham family, but have been coloured differently by the city council.
Over all is a cross of ermine. Ermine was first included in a previous version of the city's arms, to mark the incorporation of Edgbaston into the city and is taken from the arms of the Calthorpe family, lords of the manor of Edgbaston. Following local government reorganisation in 1974, the Borough of Sutton Coldfield was incorporated into Birmingham and the arms were subsequently amended. A cross, representing Sutton Coldfield and taken from its arms, was added to the arms, but it was depicted in ermine. Thus, the ermine cross represents Edgbaston and Sutton Coldfield, two very well-off areas of the city.

Superimposed in the centre of the ermine cross is a mitre, the traditional head wear of a bishop and represents John Harmanor Vesey, Bishop of Exeter in the sixteenth century, who was born in Sutton Coldfield and is said to have procured Sutton Coldfield's charter from Henry VIII, as well as other advantages for the town.

The council's web site contains a depiction of the full achievement of its arms and separate badge, together with a helpful description of heraldic terms used here: http://www.birmingham.gov.uk/arms. For further information, including original sources, please see the links below.

Sources:
(1) Personal observations, 1994 to date
(2) Birmingham City Council, web site, http://www.birmingham.gov.uk/arms, stated to be last updated Friday, 9 June 2006 and consulted 27 December 2006
(3) National Library of Ireland, Office of the Chief Herald, web site, http://www.nli.ie, consulted 29 December 2006
(4) Catalogue of Metallic Lapel Ringing Badges, St Martin's Guild for the Diocesan [sic] of Birmingham, consulted 27 December 2006
(5) Birmingham City Council, Photo Gallery: Images of Birmingham, web site, http://www.birmingham.gov.uk, stated to be last updated Tuesday, 28 March 2006 and consulted 27 December 2006
(6) Birmingham City Council, The Armorial Bearings of the City of Birmingham 1889-1977 as depicted on Spring Hill Branch Library" (abridged and amended), A. P. S. de Redman, Honorary City Armorist, as consulted web site, http://www.birmingham.gov.uk, stated to be last updated Wednesday, 15 November 2006 and consulted 27 December 2006
(7) Birmingham City Council, City Council - Coat of Arms Heraldry, A. P. S. de Redman, Honorary City Armorist, as consulted web site, http://www.birmingham.gov.uk, stated to be last updated Monday, 15 July 2002 and consulted 27 December 2006
Colin Dobson, 31 December 2006
---
Dudley (Metropolitan Borough)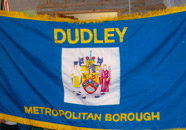 image located by Valentin Poposki, 26 February 2009
Source: http://www.upthepole.co.uk/Services.aspx
A blue fringed flag, with the arms on a square centred white panel, and the name DUDLEY above, and METROPOLITAN BOROUGH below.
Valentin Poposki, 26 February 2009
The town of Dudley had a different coat of arms.
Philip 'Doc' Tibbetts, 7 April 2009
---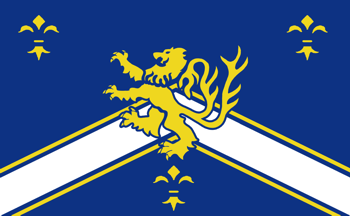 image by Philip Tibbetts, 26 September 2008
The town of Halesowen (57,918 inhabitants in 2001), part of the Metropolitan Borough of Dudley, West Midlands, England, is located c. 15 km south-west of Birmingham. Like most places in the Black Country, Halesowen had several coal mines, but the town was mostly known for its nail makers. The Black Country, whose exact limits are controversial, is often considered as made of the three Metropolitan Boroughs of Dudley, Sandwell and Walsall and of the City of Wolverhampton. It was one of the hearts of the Industrial Revolution in the XIXth century. Halesowen Town Football Club, founded in 1873 and aka "The Yeltz", is one of the oldest English football clubs.

On 25 July 2008, the "Halesowen News" presented two new English local flags, as follows:
"A former Halesowen man who has designed a unique flag for the town has got his design in print. Engineer Philip Tibbetts has designed a flag for Halesowen which he hopes will eventually be seen flying proudly in his home town. The 23-year-old former Earls High pupil, who now works in Preston, has printed a copy of the standard which combines elements of Halesowen's two coats of arms and hopes to speak to Dudley mayor Ray Burston about the idea of flying it on the old council house or St John's Church. Philip has also designed a Black Country flag featuring a chain to represent heavy industry and has spoken to the heads of Dudley, Walsall and Wolverhampton Councils who have agreed to raise the idea of having a regional standard at the Black Country Consortium - an organisation that works to spearhead regeneration in Dudley, Sandwell, Walsall and Wolverhampton. [...]"
http://www.halesowennews.co.uk/news/3547483.Proud_flag_for_Halesowen/

A colour photograph shows the flags of Halesowen and of the Black Country, presented by Philip Tibbetts and Leigh Cotterill, respectively. The flag of Halesowen is blue with a white chevron outlined in blue and yellow. There is a big yellow lion covering the top of the chevron and three smaller, yellow fleurs-de-lis in the upper left and right corners and vertically centered, in the bottom of the flag, respectively. The Halesowen Borough coat of arms is shown on the "Civic Heraldry of England and Wales" website as follows:
Arms: Per pale argent and or a lion rampant double queued per pale gules and vert a chief per pile reversed of the first and azure thereon in chief two escallops sable and in base a fleur-de-lys of the second.
Crest: Out of a mural crown or an anvil sable the beak encircled by a chain reflexed over the face gold.
Supporters: On the dexter side a canon of the Premonstratensian Order holding in the exterior hand a [closed] book and on the sinister side a gentleman habited in costume of the fifteenth century all proper.
Motto: "Respice Aspice Prospice" - Look to the past, the present and the future.
Granted 16th September 1937.
The shield is composed of emblems representing the principal owners of the Manor of Hales. The red half of the lion represents Earl Roger of Montgomery (1066-1094) and the green half, Robert Dudley, Earl of Leicester (1555). The fleur-de-lis refers to the Premonstratension Canons (1218-1538) and the scallops, the Lyttleton family, who have held the manor since 1559. The crest refers to the iron and steel industries and the chain making industry of Cradley. The left hand supporter is a further reference to the Canons and the right hand supporter is intended for Sir Thomas Lyttleton, Lord Chief Justice of the Court of Common Pleas.
Source: http://www.civicheraldry.co.uk/worcs_ob.html.
Ivan Sache, 30 July 2008

The story behind the Halesowen Flag
When designing the Black Country flag I had thought that counties had every right to a flag and following on that course of thinking it seemed only fair that towns and cities should have their own too. The flag takes on elements of Halesowen's two coats of arms. The older arms probably are associated with Halesowen Abbey which was founded by Premonstratensian canons from France in 1215. The French influence can be seen in the blue field with the three golden fleur-de-lys upon which a white chevron is added. These arms can be seen repeatedly inside Halesowen Church and are also the basis for the emblems Halesowen Golf Club, The Earls High School (the old Grammar School) and Old Halesonians Rugby & Hockey clubs.
The second coat of arms was granted by the Royal College for the parish council in 1937 and can still be seen on benches in the town centre. The centre piece of this design features a distinctive twin tailed lion rampant. The red part of the lion represents the Norman who took overlordship of the town after the Norman invasion of England, Earl Roger of Montgomery and the green half, Robert Dudley, Earl of Leicester.

In order to fit the design the lion was taken from the later arms to act as a centre-piece for the flag once it was recoloured gold. The white chevron also gets edged in blue and gold as well as a continued reflection of the emblems of the grammar school and other institutions.
Philip Tibbetts, 6 October 2008
---
The village of Pelsall is located 12 miles north of Birmingham, West Midlands, in the area traditionally known as the Black Country. The village was founded in 994, as recalled by the Millennium Stone erected in 1994. Pictures of the village can be seen on the "Pelsall Online" website: http://www.crutchleyhistory.co.uk/pelsall/. The village has remained famous for the Pelsall Hall colliery disaster of 1872, in which 22 men and boys lost their lives. The mine was flooded on 14 November, probably after a miner inadvertently pierced an old, forgotten gallery. It took six days to pump the water and recover the bodies of the dead miners. The funerals took place on 25 November and attracted several sightseers to Pelsall, described as " a dull dreary and desolate village with its bare bleak common of swags and pitfalls". Fifteen widows and forty-five orphans were helped by a fund set up in the village. The record of the disaster was published by A. Thomkinson and was put in electronic format by Alan Dean for the Cannock Chase Mining Historical Society: http://www.ccmhs.co.uk/pelsall_hall_1872.htm.

According to "Express and Star", 9 October 2006, a unique flag made especially for the village of Pelsall has been torn down from its pole and stolen by thieves. The flag was snatched from its position in High Street between 6.30 last night and 10am today. The pole itself has been damaged by fire and the manual pulley destroyed beyond repair. The black and white flag cost £100 and was designed by former villager David Pugh. It celebrates the surroundings of the area and features a bridge with a canal passing beneath and greenery. The flag was officially unveiled at Pelsall Carnival in July and has since been flown at full mast on a permanent basis. http://www.expressandstar.co.uk/2006/10/09/yobs-snatch-soldier-tribute-flag/

So, thanks to whoever stole the flag, we know that Pelsall has a flag, or had a flag.
Ivan Sache, 16 October 2006