This page is part of © FOTW Flags Of The World website
European Union: Unofficial civil ensigns
Last modified: 2009-10-02 by ivan sache
Keywords: european union | civil ensign | stars: 12 (yellow) | canton: belgium | canton: italy | canton: netherlands | canton: slovenia | proposal |
Links: FOTW homepage | search | disclaimer and copyright | write us | mirrors

---
See also:
---
Unofficial European civil ensigns
Description
It has became more and more common to see ships hoisting what could be called a European civil ensign, made of the European Union flag with the national flag of one of the member countries in canton.
These civil ensigns have had until now no official status and should not replace the national civil ensign.
Such ensigns have been reported for Belgium, France, Germany, Greece, Italy, the Netherlands and Slovenia (the latter offerred for sale but not reported seen on a ship yet).
The list includes only the "validated" reports, for which we can credit a specific source.
The origin of this flag is unknown, and the country where it first appeared is not known, either.
As far as I know, none of these flags has ever been officialized and, therefore, none of them can be used instead of the national ensign. Anyway, they seem to be more and more popular and we may expect to see more of them.
Ivan Sache, 6 April 2009
---
Legal status
The European civil ensign must not be used alone on any ship. It can be used for decoration, but it is not advisable to substitute it for the ensign.
An ensign of a ship not only shows the nationality, but also shows where the ship is insured. If the owner replaces the ensign by a European 'ensign' he will loose all insurance for his ship.
That is fact in Germany, and I think it might be elsewhere. I received that information from a ship insurance company.
Ralf Stelter (Archiv für Flaggenkunde), 7 January 2001
---
"European civil ensign": Belgium
Belgian "European civil ensign" - Images by Ivan Sache, 29 October 1999
More details on these flags can be read here.
Ivan Sache, 29 July 1999
---
"European civil ensign": France
Years ago, I saw the flag hoisted on bow of a boat of the Rhine Police (on TV images) and asked Armand du Peyrat, the then editor of Album des Pavillons, what he knew about this flag. Armand knew nothing and confirmed that this flag had never been made official and could not be used as an ensign.
According to my observations in river ports in the Paris area, the flag is very often hoisted as a jack (at prow), or as "secondary" ensign from any halyard of the yachts.
Ivan Sache, 6 April 2009
---
"European civil ensign": Germany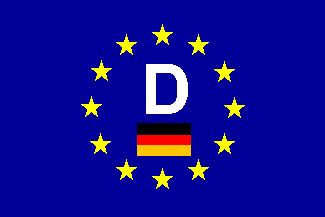 German "European civil ensign" - Image by Ivan Sarajćić, 3 September 1999
More details on this flag can be read here.
Ivan Sache, 29 July 1999
---
"European civil ensign": Greece
I remember seeing a Greek European Union ensign several years ago (>10) when on holiday there.
André Coutanche, 17 August 2000
---
"European civil ensign": Italy
Italian "European civil ensigns" - Images by António Martins, 23 July 1999 (left), and António Martins & André Coutanche, 20 September 2001 (right)
More details on these flags can be read here.
---
"European civil ensign": The Netherlands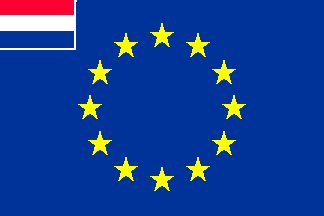 Dutch "European civil ensign" - Image by Jarig Bakker & António Martins, 16 June 2002
While I was waiting for the bridge over the Kostverlorenvaart, Amsterdam, a small cruiser passed with a strange European Union flag, which appeared to be one with the Dutch flag in the canton fimbriated white.
Jarig Bakker, 16 June 2002
---
"European civil ensign": Slovenia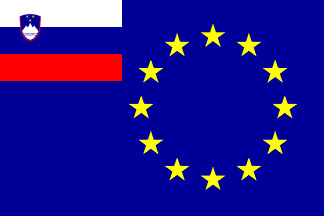 Slovene "European civil ensign" - Image by Eugene Ipavec & , 6 April 2009
The Slovene "European civil ensign" is sold by the Okras d.o.o. company, which shows a photo of it on its website.
Ivan Sache, 5 April 2009
---
Rejected proposal of an European civil ensign
A motion, supposed to have been tabled recently in a committee of the European Parliament, states that the ensign of vessels of the member countries should be the national flag defaced with a European emblem. The report is said to be going before the whole Parliament in January 2004 when some Members of the European Parliament hope that the amendments can be defeated. It is in any case possible that any such proposal might contravene the 1982 UN Convention on the Law of the Sea - Article 92. Status of ships.
1. Ships shall sail under the flag of one State only and, save in exceptional cases expressly provided for in international treaties or in this Convention, shall be subject to its exclusive jurisdiction on the high seas. A ship may not change its flag during a voyage or while in a port of call, save in the case of a real transfer of ownership or change of registry.

2. A ship which sails under the flags of two or more States, using them according to convenience, may not claim any of the nationalities in question with respect to any other State, and may be assimilated to a ship without nationality.
David Prothero, 10 December 2003
The motion was put before MARE, a Temporary Committee on Improving Safety at Sea of the Transport and Regional Affairs Committee, by a Basque MEP, Josu Ortuondo Larrea. MARE was set up to look at measures to try and prevent another disaster like the Prestige, the tanker that ran aground in Galicia last year. I think the motion is connected with a move to set up an EU Shipping Registry, to ensure safety standards and to eliminate single-hulled tankers like the Prestige.
As I read it, though, MARE is not due to present its final report until April 2004. The article in The Times suggests that national governments will not stand for it and it will be defeated by the Parliament. A British MEP is quoted as thinking that the idea was worth looking at, and suggested a new flag could be 99% Red Ensign and 1% European Union. How he proposes to design a flag like that is not recorded ...
Ian Sumner, 11 December 2003
Last week the European Parliament voted against this proposal.
Marcus Schmöger, 19 January 2004